"I know it's time to think bigger, to step into my power, to rise to the next level. But I don't know how!"
Something is calling for change. The old ways of being and working just aren't working anymore.
Maybe it's the job that doesn't fit. Maybe it's those old habits and old stuck results that don't fit. Maybe it's an outworn identity that's too small and no longer serving.
We all long to be seen for who we can be. We're searching for the wisdom that will help us put the final pieces in place. We know we need the support and encouragement of others and often, that can be hard to find in the workplace or sometimes even at home.
It's time to do what only you can do.
What do you need to trust the wind beneath your wings?
How can you use all your gifts in service of what is important to you in life?
If you want to step into these questions with clarity, focus, and with that sense of wind beneath your wings, then Thrive! is for you.
Using the powerful building blocks of personal story, potent questions and wisdom council, Thrive! offers you the gift of an inflection point for yourself. A moment to consider who you want to be, what that looks like and how you can get there.
You will come away with a deep sense of commitment to your next significant steps into your vibrant future.
See all upcoming events
The building blocks of Thrive!
Your story holds the key
Your story is the road your life is running on. Are you enjoying the journey and the view? Since we live in a story, that means we can change it. The stories we carry hold the key to unlocking future potential now. In sharing our stories, we will find the elements to help each other create a powerful question -- the tipping point for transformation.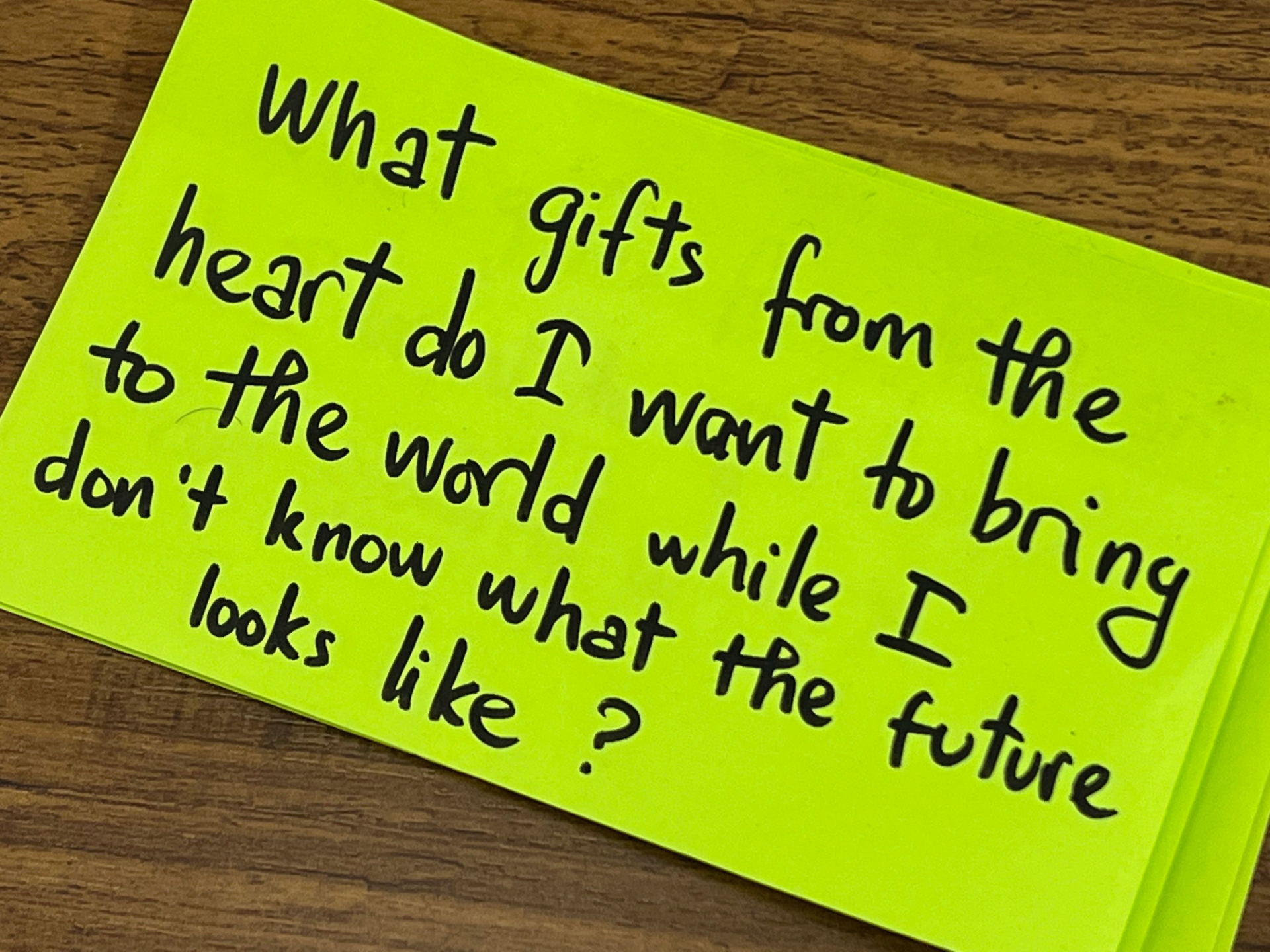 A question is a doorway
A question is a amazing thing. It opens the door to new perspectives; it encourages the mind to pursue unexpected possibilities. Crafting a powerful question is both a skill and an art. You will receive the input of others into shaping the question that will open the door to your future.
Together we are wiser
We will take our questions into the Flow Game, a playful way to work with what really matters. Here, we will act as Wisdom Council for each other, offering our generous listening and support so each person finds their next potent steps for creating the future they dream of.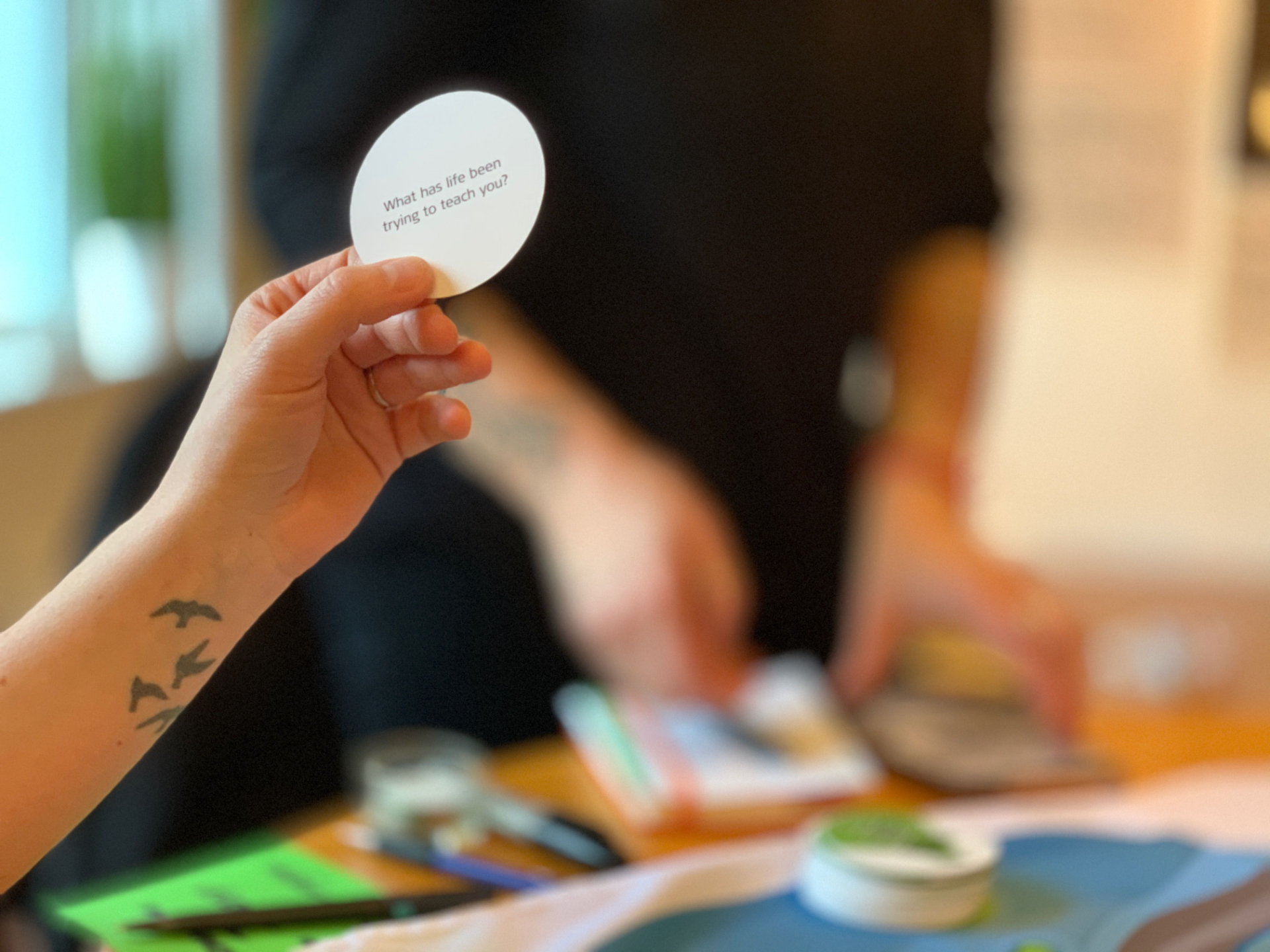 What you will experience with Thrive!
During the first part of our time together we'll be sharing stories that help us focus on what we value most and find the gold in our recent learning so far.
We'll use what we uncover to craft a powerful question that can support us to think higher and move beyond our present view of what is possible.
During the second part of our time we'll join together in wisdom circles, bringing our questions to the Flow Game. We will be supporting each other to gain clarity, grounding and insights to power up our future.
You will be accompanied by trained Flow Game Hosts, guiding you to find wisdom and companionship in your circle around the game. We'll use both our experiences and one of our most powerful gifts as humans — our intuition!
We offer you an experience of introspection and reflection in community — with the stories of our lives, questions that move us deeply, and the wisdom and intuition of us all, for us all.
This will be a highly interactive time focused on investing in your most potent resource — yourself.
Come with your questions and an open mind. Come with intention to support and be supported. Come prepared to meet the next most powerful version of you.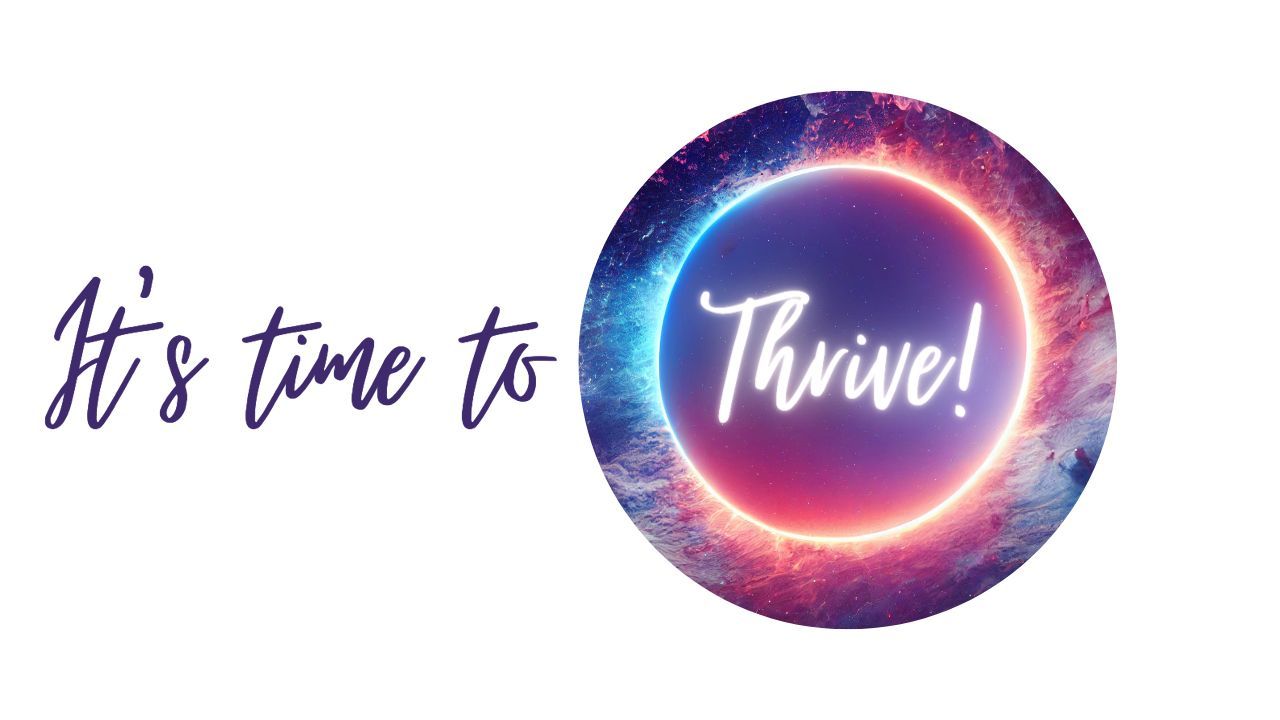 What Thrive!

offers
Practice in the ancient human superpower of storytelling as a path to connection and insight

Skill in crafting questions that move you deeply because they describe the edge you are about to cross in your life right now

The gentle but provoking medicine of the Flow Game with your questions to playfully offer your intuition to each other and gain insight for yourself

Finding the next steps to live your power with wind beneath your wings
Thrive!

is for
you if...
You have a deep and persistent feeling that there must be more to life

You know it's not about the latest shiny tool, but about finding your own inner wisdom and trusting yourself

You know working with others will give you greater depth and traction

You are looking for authentic connection and like-minded colleagueship in an environment that will both challenge and support you

It is no longer time to wait, but time to get started
B
ring with you
A draft idea of a question that is deeply moving you right now

Curiosity and playfulness

The willingness to reflect and introspect

Your intuition, your gut feel, your deep sensing

—

whatever you call it

—

and the willingness to offer it to others
Thrive! Würzburg
September 22 & 23
The beautiful river town of Würzburg looks old and historic, but it is actually a phoenix risen from the ashes. More than 90% destroyed in 1945, the will of its people rebuilt it into the thriving city it is today. What a perfect place to reflect on rising to your next level of strength and expression!
We will gather together on the afternoon of September 22 to begin our work and share our stories. From these we will craft powerful questions and sharpen them together.
We have the evening to enjoy each other's company and the offerings of this wine region. Then on the next day, we will step into the Flow Game together and craft our action plans. 
The event will take place in English with German translation. Please act now to reserve your spot.
September 22 & 23 in Würzburg, Germany. 
Learn more & register
Thrive! Online
Second half of 2023
Join a Thrive! gathering online and gain a community offering international wisdom council
There's nothing quite like the support of people around the world holding space for each other to thrive.
Our online gathering will take place over two days. During the first session we will connect with each other, and then share our stories. You will have the opportunity to choose the group configuration you want to share with.
From our stories we will support each other to craft powerful questions. We will let our questions cook overnight in what we call "the night time university."
Then the next day, during our second meeting, we will take our questions into the Flow Game for wisdom council and shape our next steps.
This event will take place in English.
Online (dates to be confirmed) from 9:00 - 12:30 Pacific / 12:00 - 3:30 pm Eastern / 18:00 - 21:30 CEST each day
Dates to be confirmed